Whatsapp Tests Self-destructing Messages
In recent times, Whatsapp brought the long-awaiting dark mode to its users and now the company is working and testing another sought after feature that's already been in other messaging apps- self-destructing messages.
Also read: Whatsapp reaches two billion users landmark
According to the reports, in two beta versions of Whatsapp, the option to set a timer in the self-destructing apps can be found. The beta versions were designated as 2.20.83 and 2.20.84. The users can choose the expiry period of the messages between one hour to one year.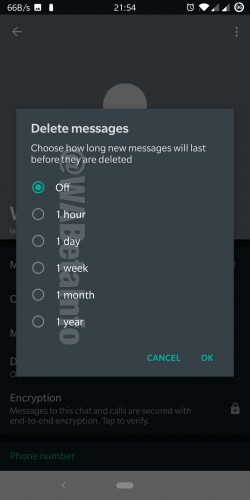 Also read: Apple's work from home creating chaos
Once you set the timer, it will show a clock icon next to the sent time to keep track of the expiration time of the message. No one knows when the function will make its way to the stable versions.
Self-destructing messages could be helpful to anyone who wants to share sensitive information with someone but still does not want it to be permanently available to the recipient. The feature exists in several other messaging apps like Telegram, which lets the users send 'timed' messages in the apps' Secret Chats feature. Gmail also added a similar feature last year in their standard interface