Websites Selling Smuggled Vehicles in Pakistan
There are many websites on social media that are selling non-custom paid smuggled vehicles in Pakistan. The vehicles are smuggled through Afghanistan border.  The traffickers offer the 'vehicle at your doorstep,' facility to the customers by charging more.
Federal Investigation Agency (FIA)'s Cybercrime Unit and Customs Authorities have taken no action in this regard and is just ignoring this issue which can ultimately lead to more crime and affect the economy of the country.
Different pages relating to non-custom cars operate on Facebook like "Chaman non-custom cars," operating from Afghanistan and 'Non-custom cars Alssayart moter dealer". Also, many Pakistani car websites are filled with these advertisements.
Through these websites, a car which has a value of around Rs1.8 million is sold for just Rs0.25 million along with the offer that the car is provided at your doorstep.
The smugglers assure the customers that they will deliver the vehicles at their desired place in Pakistan by charging an extra amount.
Smugglers have also put up their phone numbers so that customers can contact them like 03178490002, 03146143795, 03341270209, 03434473187, etc but Pakistani authorities have been unable to trace the number for the location of these people.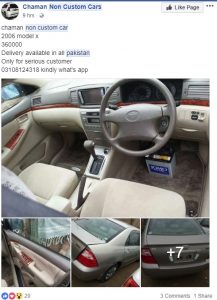 Smugglers further mentioned that 'only serious buyers can contact on Whatsapp'. As the calls and messages on WhatsApp are encrypted thus it shows why the smugglers have asked buyers to contact through WhatsApp.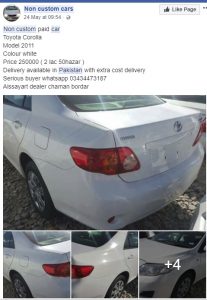 On the websites, the traffickers post pictures of the vehicles along with its model number, color, condition, company name etc.
The smugglers set up their sale centers near the border in Nangarhar, Paktia, Khost and Paktika provinces, assessing the growing demand for non-custom smuggled vehicles in Pakistan.
These vehicles are a security threat for Pakistan. They can be used for any kind of crime from a terrorist attack to abduction to smuggling heroin. But Pakistani authorities have not put a ban on them, neither are they interested to track them, which is quite disturbing.