Summer Vacation Holidays Extended in KPK and a few Schools of Punjab
Summer Vacation Holidays have been extended in KPK and a few schools of Punjab.
Schools in KPK were expected to re-open on 1st August but due to severe heat Summer Vacation holidays have been extended. The schools will now open on 15th August in KPK. Caretaker CM KP Former Justice Dost Muhammad Khan took this decision. As there has been a constant increase in heat & humidity and students were facing problems due to it the Caretaker CM KPK made the announcement to extend summer vacation holidays by 10 days.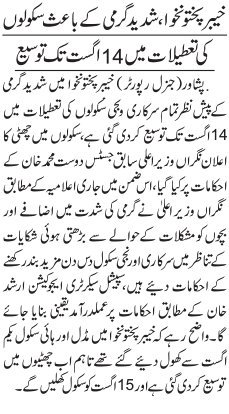 Now in Punjab, the announcement was that schools will re-open by 6th or 13th August but many schools have made the announcement that they will reopen after Eid-ul-Azha. As there will be a holiday on 14th August and then almost a week-long holiday for Eid, few of the schools have decided to extend the summer vacation holidays.
OPF school posted on Facebook, "Summer holidays are extended till 24th August 2018.
We will reopen on 27th August 2018."
Fazaia Schools and Colleges posted, "Attention Plz, Summer Vacations for Junior Section of Fazaia Schools and Colleges has been extended until 12 August 2018 due to severe hot weather condition. However, senior and college section will remain open."
Attention PlzSummer Vacations for Junior Section of Fazaia Schools and Colleges has been extended until 12 August,…

Posted by FDC ARF JS on Monday, August 6, 2018
It is pertinent to mention here that in Punjab there has been no official announcement relating to the extension of summer holidays. Only a few schools have extended it. But in KPK the government has officially announced extension till 14th August, thus all schools will remain close in KPK till that time.
Earlier Summer Vacations holidays were extended till 31st July in Sindh due to elections and unbearable heat in the province. Sindh Education department made the decision to provide relief to the students.
Media coordinator and junior editor at Research Snipers RS-NEWS, I studied mass communication and interested in social, local and community issues, I have 3 years experience in the media industry.