Shahid Afridi Receives Guard of Honour for His Last Match in International Cricket
Former Pakistani Cricketer and Captain Boom Boom Shahid Afridi was awarded the guard of honour during his last international match. Afridi played a charity T20 match at Lord's. It was played between West Indies and World XI at Lord's
On receiving of the special guard of honor Afridi said,  "That's something I'll never forget. For that to happen at the home of cricket, it's massive. The cause was everything tonight, and to have been able to help, it's fantastic. Thanks to everyone who came out and supported this."
"Guard of honour for Shahid Afridi as he says farewell to international cricket"
Guard of honour for Shahid Afridi as he says farewell to international cricket #CricketRelief pic.twitter.com/Aog3X0aL85

— Saj Sadiq (@Saj_PakPassion) May 31, 2018
Here is another video
Here is the picture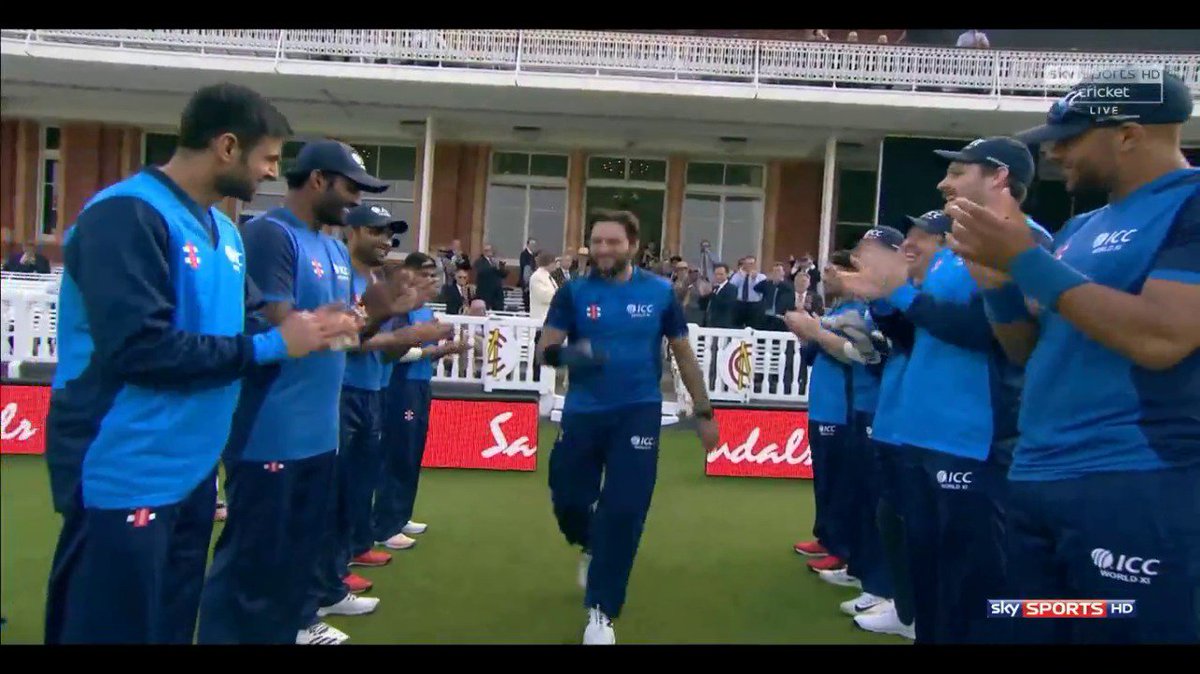 Afridi was the captain of World XI team in his last match. He was handed the role of captaincy to replace Morgan who suffered an injury. They lost the match by 72 runs. The charity match was organized to collect funds for the rebuilding of a cricket stadium in Anguilla and Dominica damaged by hurricanes Irma and Maria.
Nasser Hussain former England skipper was on the ground. He asked Afridi if he plans to change his decision to which Afridi replied, "No that's it. You can see my situation with the injury."
In his international career, Afridi scored 11,000 runs and took 541 wickets. In his last match, Afridi scored 11 runs and took 1 wicket. He donated  USD 20,000 to the Hurricane relief fund from his foundation.