Pak Suzuki Officially Discontinues Mehran VX
For many years, the news has been making rounds that Pak Suzuki is discontinuing its most loved, popular and sold car Suzuki Mehran. Media outlets kept on speculating the news but it was never officially announced by Pak Suzuki.
Now Pak Suzuki has made an official announcement that it is halting Suzuki Mehran VX production from November 2018.
Pak Suzuki has sent a notification to its vendors stating, "Dear valued vendor(s), Management of PSMCL has decided to discontinue its Model SB308 only version VX(Mehran) from end November 2018".
Adding,  "In view of above, it is important to note that all the respective local parts should be produced and supply according to schedules to be sent to you on monthly basis for remaining production plan of 6734 units to be produced from June 2018 to End November 2018.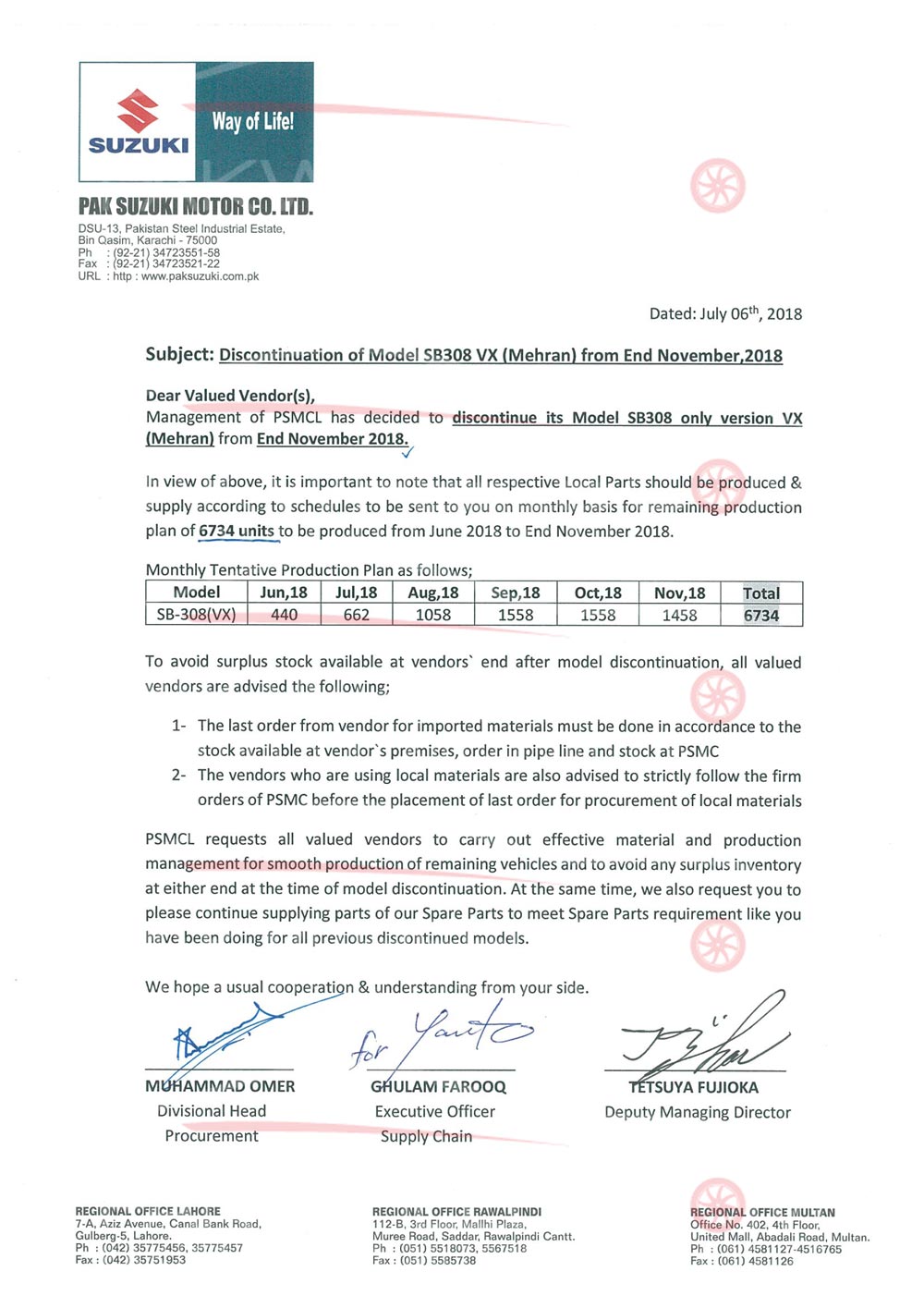 Pak Suzuki has further stated, "To avoid surplus stock available at vendors ends after models discontinuation, all valued vendors are advised the following:
The last order from the vendor for imported materials must be done in accordance to the stocks available at vendor's premises in pipe line and stock at PSMC
The vendors who are using local materials are also advised to strictly follow the firm orders of PSMC before the placement of last order for procurement of local materials
Earlier we informed our readers that 4360 units of Suzuki Mehran were sold in February 2018 in Pakistan. In comparison to February 2017, 1000 more units were sold this year as 3360 units of the car were sold last year. This was almost a 30% increase in sales. It was thus speculated that Mehran will not be discontinued soon, but as the company has officially announced we will have to bid goodbye to the most iconic car ever launched in Pakistan.