Iran's Football Team Picture Gets Viral over the Internet
People will watch FIFA Worldcup 2018 because they love the game, they are supporting a team or because it is such a hyped event around the world. Well, social media users have found another reason to watch FIFA World Cup 2018.
A picture of Iranian Football team went viral over the internet and people have gone crazy over the snap.
This is a picture which shows Iranian football squad, wearing matching suits and fitting perfectly on the tall dark and handsome description.
More Pictures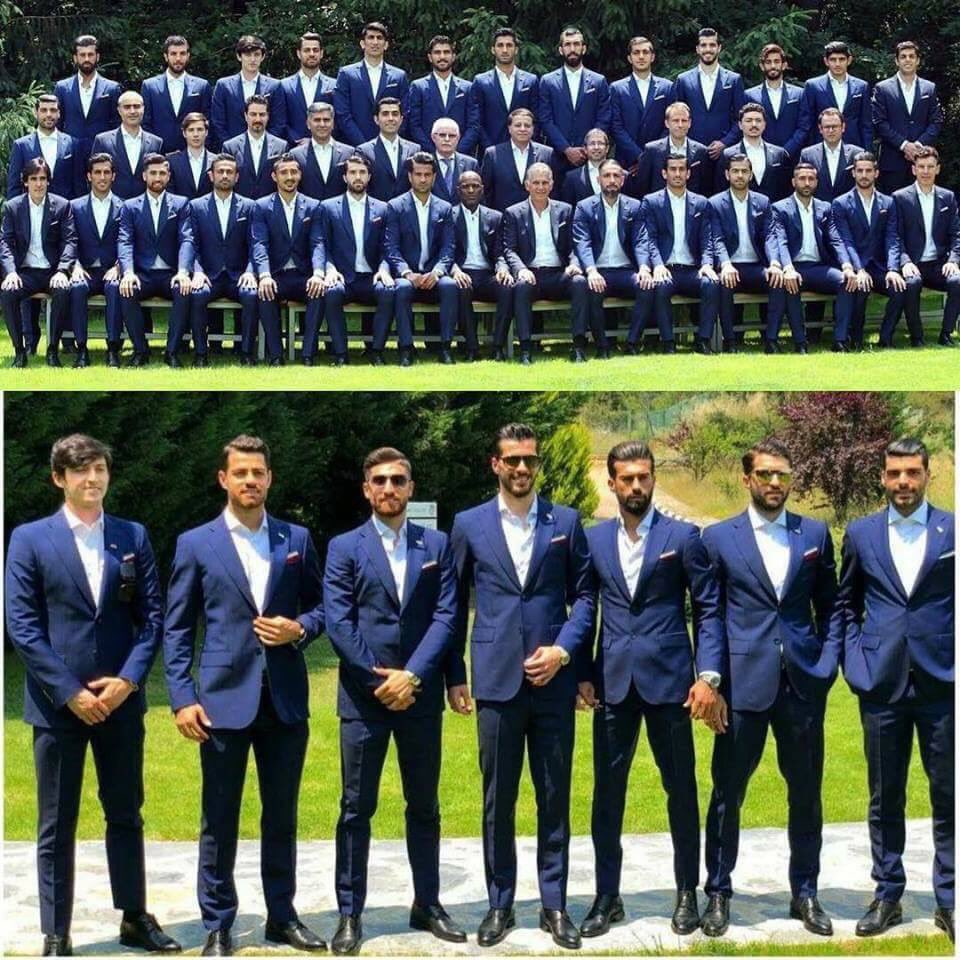 Here are some worth mentioning tweets on this picture.
"Think I will be supporting the Iran football team"
Think I will be supporting the Iran football team 😍 pic.twitter.com/9b9uD6PLGr

— Colette Scullion (@Cocolect8) June 8, 2018
"Not sure if it's Iran National Football Team for the #WorldCup or competitors in Mr. Universe!"
Not sure if it's Iran National Football Team for the #WorldCup or competitors in Mr. Universe! 😍😍😍😍 pic.twitter.com/s0CVFMvR6N

— Zainab_Abdul_sater (@zainab_sater) June 8, 2018
"Can we all just take a moment to appreciate how BEAUTIFUL Iran's national soccer team looks"
Can we all just take a moment to appreciate how BEAUTIFUL Iran's national soccer team looks 😍🇮🇷⚽️❤️ pic.twitter.com/fBGVvoyGu4

— 𝒩𝒶𝓈𝒾𝓂 🌹 (@persia__x) June 5, 2018
"The Iranian football team. A moment of silence please to appreciate this beauty. I think ill support #Iran this World cup sorry #brazil."
The Iranian football team 😍😍 A moment of silence please to appreciate this beauty ❤😍
I think ill support #Iran this World cup sorry #brazil 😂#FifaWorldCup2018 pic.twitter.com/IKFSCImyDO

— Lea Kanso 👊 🇱🇧 🇧🇷 (@leakanso) June 10, 2018
"Suave image of Iranian world cup football team has Twitter swooning"
Suave image of Iranian world cup football team has Twitter swooning https://t.co/tGnxY638lD #WorldCup #Iran 🇮🇷 pic.twitter.com/ldt8lvxUhi

— Alireza Tabatabaeenejad (@alirezat) June 9, 2018
"World. Up soccer coming soon! No Italy, no USA! Iran gets my support this time. Forza Iran."
World. Up soccer coming soon! No Italy, no USA! Iran gets my support this time. Forza Iran. https://t.co/f1J2Ph6hao

— Silvia G. Macor (@sgmacor) June 10, 2018
"I am wondering if I should invest in watching the #Russia2018 #football #WorldCup …. of this line up ….#Iran team."
I am wondering if I should invest in watching the #Russia2018 #football #WorldCup …. of this line up …. 😍😇 #Iran team pic.twitter.com/N8PFB2sd1j

— Intissar Rajabany (@IRajabany) June 10, 2018