FIA cybercrime wing is investigating smear campaign against Saudi Crown Prince
The Federal Investigation Agency's (FIA) Cybercrime Wing is investigating against specific writers and groups for purportedly executing what it called " a targeted social media campaign" against Saudi Crown Prince Mohammad Bin Salman during his February visit to Pakistan.
The advancement became visible when a duplicate of a letter dated March 13 ─ the authenticity of which was confirmed for DawnNewsTV by FIA sources ─ started circling via web-based networking media after writer Murtaza Solangi, who was named in the notice, enlisted a solid protest to an investigation being started against him.
"So the shameful government of Imran Khan has a problem with putting the picture of slain journalist Jamal Khashoggi on your Twitter profile and considers it against the law?" the journalist tweeted.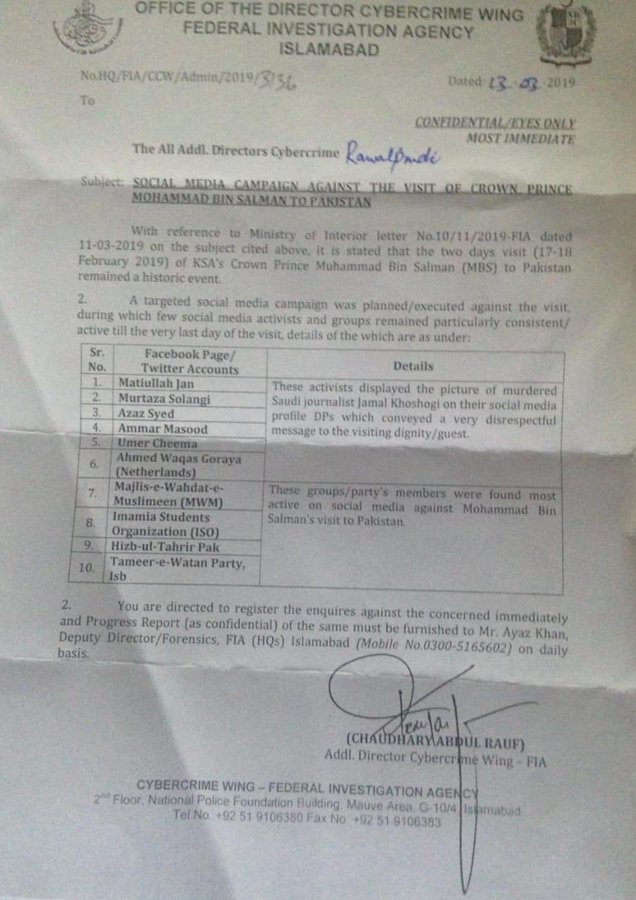 The letter signed by FIA Additional Director Cybercrime Wing Chaudhry Abdul Rauf requested every one of additional directors of the FIA in Rawalpindi to enlist inquiries against the six columnists and four groups named in the letter.
These include:
Majlis-I-Wahdat-I-Muslimeen (MWM)
Imamia Students Organization (ISO)
"A targeted social media campaign was planned/executed against the [crown prince's] visit, during which [a] few social media activists and groups remained particularly consistent/active till the very last day of the visit," the letter said.
The letter, referring to the journalists, stated: "These activists displayed the picture of murdered Saudi journalist Jamal Khashoggi on their social media profile DPs which conveyed a very disrespectful message to the visiting guest."
Speaking about the groups that will be probed, the letter said: "These groups/party's members were found most active on social media against Mohammad Bin Salman's visit to Pakistan."
All additional directors were asked to submit a report on their inquiries to Deputy Director Ayaz Khan on a daily basis.
Read this Erdogan aims to rename Hagia Sophia as a mosque
Image via Arab News