A Pakistani Selling a New Born baby on Facebook and People are Asking the Price
An absolutely disgusting activity was seen on a Facebook Group Buy and Sell (Meena Bazar) where a person named Salman Ahmed was seen selling a baby and people are asking him for the price and more pictures of the baby.
So now have we reached that stage where we will sell new-born babies? A person is selling a baby publically and others are asking the price of the baby? It seems that humanity has just died.
Yes, there have been kidnapping incidents of babies. People have kidnapped & killed new-borns. Babies have been sold for money but from when has social media become a platform for such inhuman activities?
Salman Ahmed posted and asked that if anybody is interested in buying the baby, he/she can inbox him.
The group name was Buy and Sell (Meena Bazar). Thankfully there were some normal people in the group and they criticized the post, thus it was taken down.
We do have a screenshot of the post.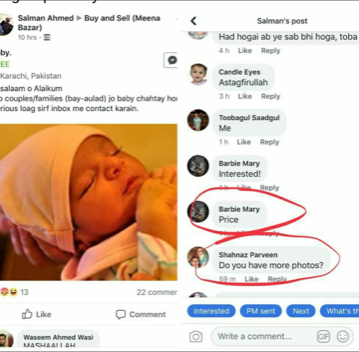 There are always people who will do the wrong deeds, kill, kidnap, sell babies for whatsoever reason. But how can we normalize such terrible act?. Selling a baby on Facebook is something that is beyond disgusting. And the person who put the post and those who supported him by asking questions are equally blamed.
Facebook has become a platform for all kind of activities, the good, the bad, and the unspeakable. Earlier we informed our readers how it is so easy for a common person to buy an illegal passport through Facebook. There are many Facebook groups where people are buying and selling passports, travel documents and European residency IDs illegally which has normalized another illegal activity.