2018 Toyota Camry Hybrid Review
2018 Toyota Camry Hybrid has launched in Pakistan a few weeks back. First, we will discuss the specification of the car and then give our own review about it.
2018 Toyota Camry Hybrid Review
The 2018 Toyota Camry hybrid has a new altered front with a huge grille in the front bumper. The LED headlights are just amazing, a dual beam that has daytime running lamps. The low-grade car has 17" alloy wheels while the high-grade Toyota Camry car has 18" alloys that are as claimed by Toyota, aerodynamic. Other interesting features of Toyota Camry 2018 are its touch sensor smart door handles, smart key, push start button etc. Also, Camry has a panoramic sunroof. The interior of the car it has a completely new 7-inch multi-information display. This display provides the users with all required information from multimedia info, eco-meter to driving assist and parking etc. Interior is redesigned and upgraded with innovative styling. Buyers will be given the option to have black or beige interior color scheme. Moreover Toyota Camry hybrid will have double zone air conditioner.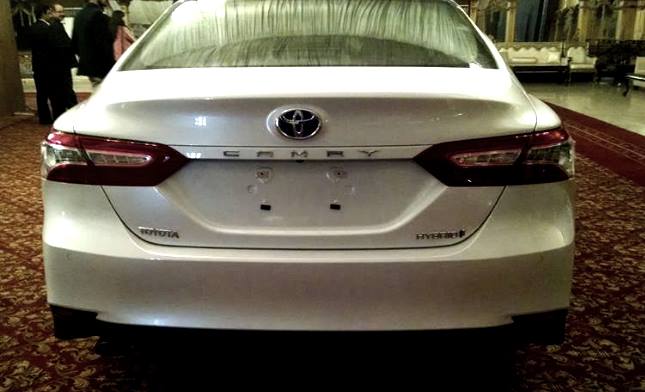 Camry gets a 2.5L four-cylinder with 118 BHP made by an electric motor and 175.6 BHP made by internal combustion petrol engine. 202 NM of torque is made by the electric motor and 221 NM of torque by the petrol engine. In order to increase performance Toyota is also providing ECO, Normal, and Sports buttons for the drivers.
Colors in which the car is available are Attitude Black, Steel Blonde, Dark Blue, Emotional Red, Graphite Silver, and Platinum White Pearl.
New Features in 2018 Toyota Camry Hybrid
It is completely redesigned. Better fuel economy, stylish, smoother, comfortable with an addition of security features.
Trim Levels
The car is available in three trim levels that are base LE, sporty SE and lavish XLE. The battery used in base LE car is energy-efficient lithium-ion (Li-ion), sporty SE and luxurious XLE hybrids have nickel-metal hydride (Ni-MH) battery.
Safety Features
The car has adaptive cruise control, auto emergency braking, blind spot monitoring, rear cross traffic alert, seven airbags etc.
Driving
With 2.5-litre petrol engine, CVT transmission, two electric motors the performance of the car is superb. The hybrid system makes the driving quite smooth.
Comfort
The car is extremely comfortable, the ride is easy & smooth on Toyota Camry Hybrid.
Interior:
Toyota Camry Hybrid is a spacious car, it is roomy and it invites one to go for a drive just for fun. As many changes have been done to the 2018 Toyota Camry Hybrid thus it has made the interior of the car appear better.
Technology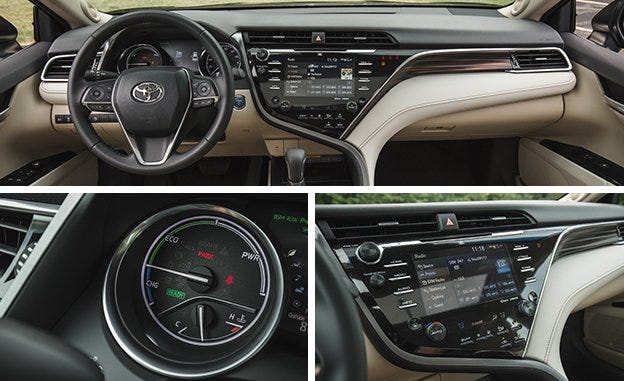 There are standard driver assistance features in the car, the audio system is fine but improvements can be made to the overall tech of the car.
Price
2018 Toyota Camry Hybrid price in Pakistan is in between 83 lac to 85 lac.
Criticism
Touch Screen graphics are quite boring and do not respond often. Also, Toyota still does not allow smartphones to connect via Apple CarPlay or Android Auto.
Brakes are another issue of the car. They are hard to moderate in low speed so it gets a bit tiring to drive when the traffic is heavy.
Overall Rating
The interior of the car is great. Further tech enhancements can be done. Driving is smooth, great performance overall the car will get 4 stars out of 5.